05 January 2019 - Reflecting on change in IT
Educause 2018 – Day Three
Day Three of Educause, I say "day", it's more of a half day, and the numbers are rather thinning out after yesterday. With exhibitors packing up and going home (or taking half day trips to the mountains in the case of those I had dinner with last night) we are down to the hard core of attendees. We're still talking a couple of thousand people, but the 8am (a lie-in!) session on change management was sparsely attended compared to the standing room only at some of the other sessions in the last few days.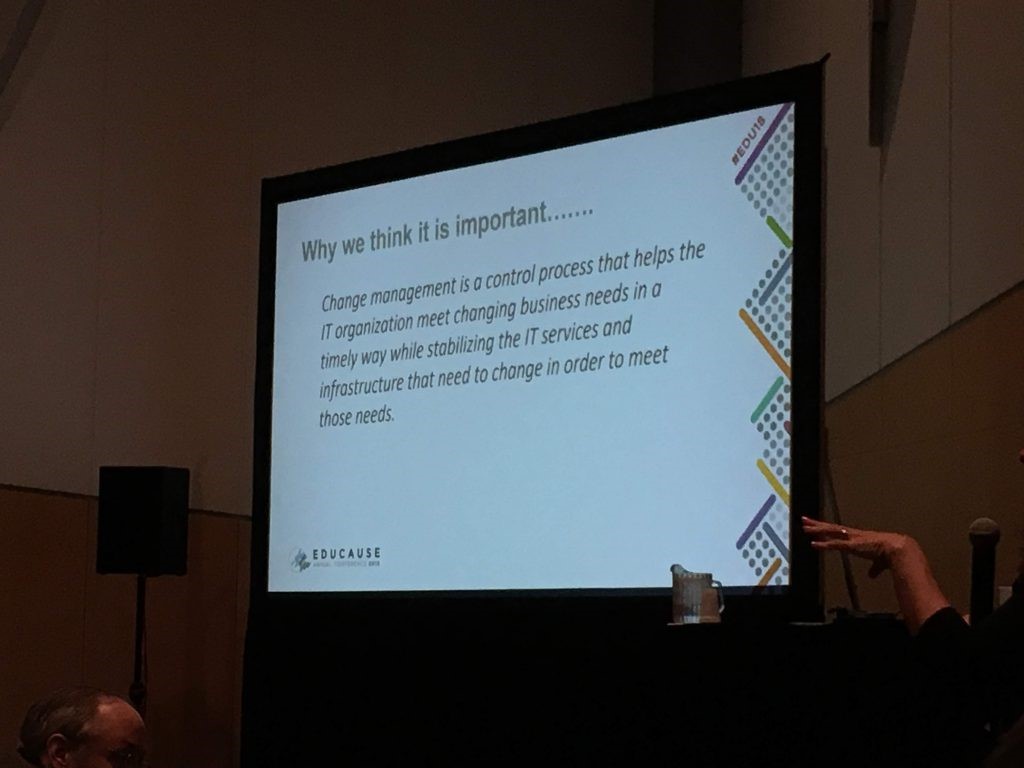 Change management is an ever important topic, and it's a process that is evolving and maturing at many UK universities. If it is introduced in a way that appears too heavy-handed to your IT specialists, you risk disengaging them, so it is something that needs to have a nuanced approach, with changes around certain times of year subject to more scrutiny, and a lot of team/service manager discretion built in to the process for more regular/routine changes. A robust and engaged change management board is important, and if they are not paying enough attention to changes then this kind of negates their usefulness. It's a process that needs to be designed with the input of many stakeholders in IT, not just those at senior management level. There was plenty of lively debate during this session.
The next session was on the topic of "onboarding", or in plain English, "what happens when someone joins your organisation/department/team". This is something that I've been interested in for a while. Thinking back to my own experience way back in 1996 (yes, I've been with the same organisation for over 22 years, in different roles), I think it's fair to say that this is one process that hasn't really moved with the times. This was an interesting session from Dartmouth College. That's in Hanover, New Hampshire, as opposed to the one that I've been to, the town on the western bank of the estuary of the River Dart in Devon.
Dartmouth have some famous alumni, with perhaps the most notable being Nelson Rockefeller (Gerald Ford's vice president). The journey that they take their new staff on is quite an interesting one, and certainly seems to be an enriching experience for new employees. How much of it might translate to a smaller country and institution is something to reflect upon, but there was plenty of food for thought. I'll come back to food in a moment.
After a break to grab a final coffee, we find ourselves back in the Bellco Theatre, and the wings are not as full as on the first morning.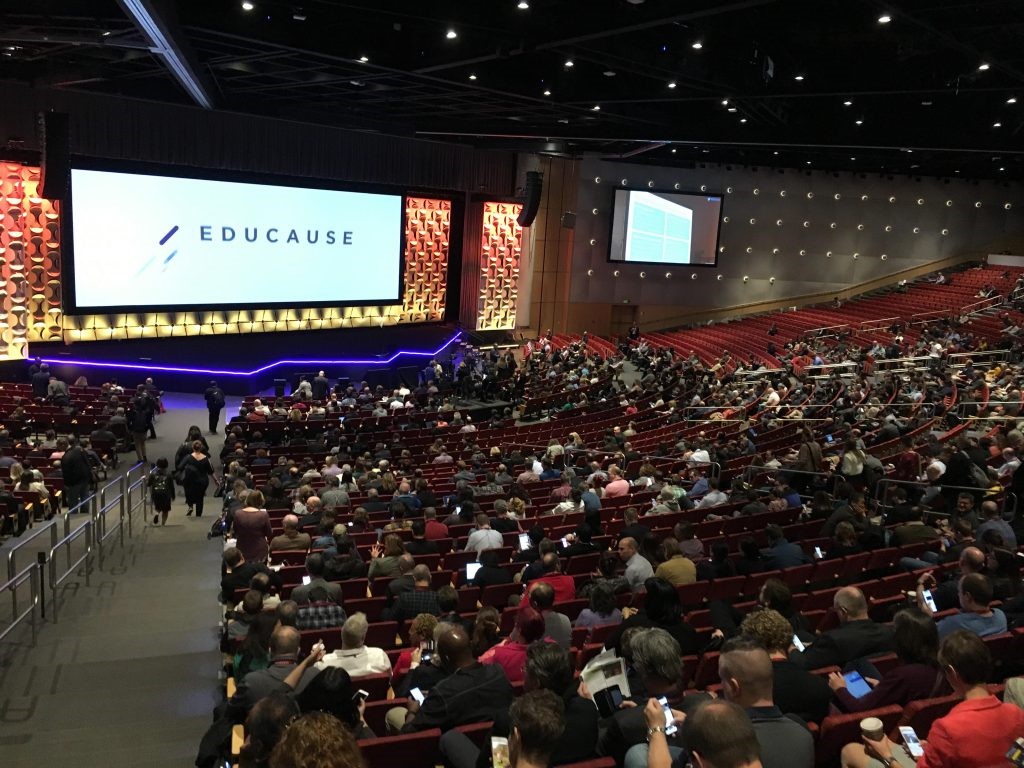 We are here for Alexis Ohanian, aka Mr Serena Williams, aka the co-founder of Reddit. His presentation was entitled "Make Something People Love" and was a very interesting delve into the olden days of the modern web (some of us are old enough to remember the 1990s web), featuring lots of early screenshots of popular sites and social media platforms. Do you remember the first days of Twttr (when it had no vowels)?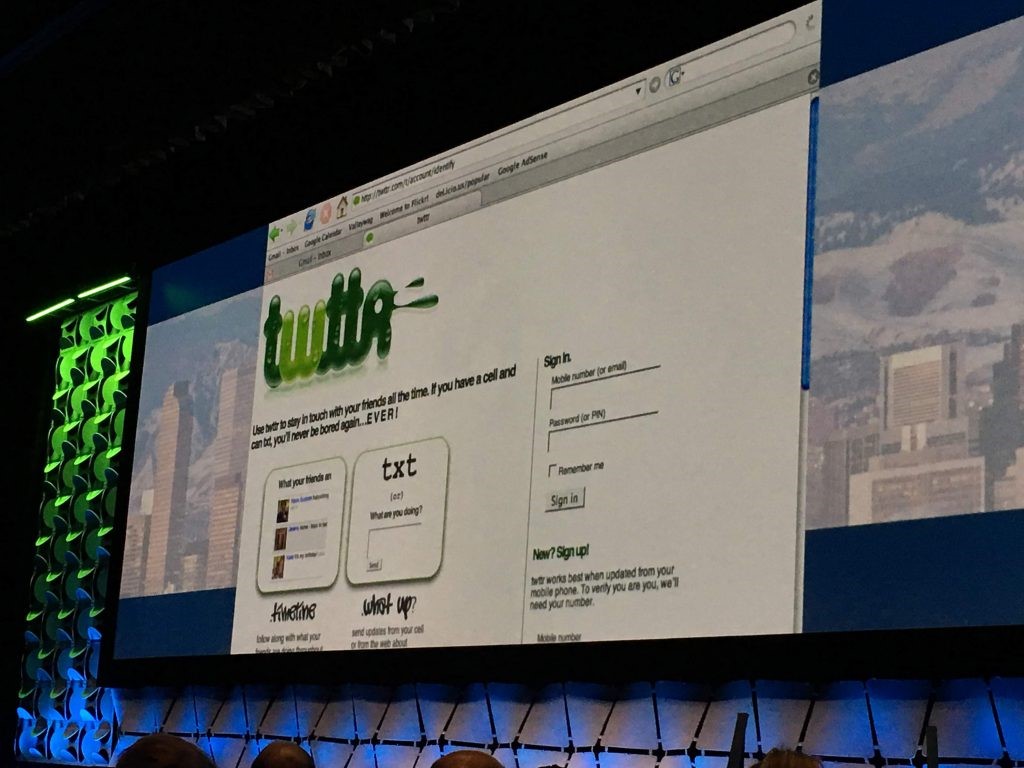 Alexis had a lot to say on this, and lots of insight. Nowadays we can go out to lunch, take a photo of our smashed avocado on rye presented on a slate, and then share that using an app with a beautifully designed user experience.
When we get back to lunch, we then have to interact with an ugly HR or finance system which seems to have had no thought given to the user experience. Why is it that Instagram is a more pleasurable experience than Oracle E-Business Suite Financials?
A genuinely engaging keynote, so much to think about. Maybe over lunch which can then be shared on social media? Not today I'm afraid, as this was the close of the conference. No lunch today, so several thousand delegates streamed out of the Bellco Theatre, and in to the surrounding streets to find something to eat, whilst digesting the conference proceedings. I'll digest them and produce a brief summary tomorrow.
This first appeared on the East Midlands Learning Technologists' Group blog.
Interested in finding out more about a ucisa bursary, then visit ucisa Bursary Scheme.