31 January 2019 - Thinking outside the box with CPD
The Business Analysis Conference Europe 2018
As the first month of the year draws to a close, with the threat of freezing temperatures and snow, many of us may find our resolve to stick to a new year programme of healthy eating, more exercise and quitting our vices of choice tested. The desire to curl up in front of the fire with a drink and some comfort food may well become harder to resist as temptation knocks on the snow-laden window.
But not all resolutions are about quitting bad habits. Many of us will have started the year with goals to learn a new skill, gain a new qualification or simply to learn something new and certainly many of the speakers at last year's Business Analysis Conference 2018 appeared to advocate this as a personal goal.
CPD outside the box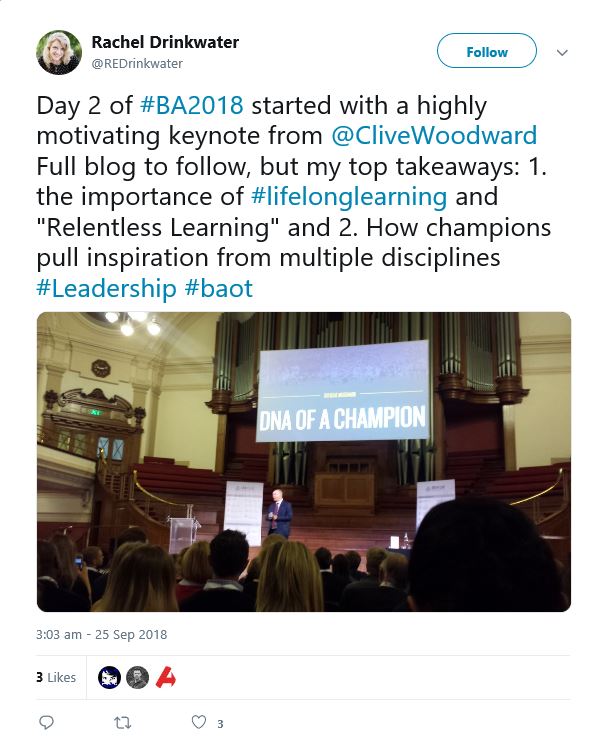 Indeed much of the focus of Sir Clive Woodward's inspiring keynote talk on the morning of Day 2 was on 'relentless learning'; a lifelong practice of curiosity, seeking out new knowledge and dedicating time and energy to Continuing Professional Development (CPD). However, Sir Clive advocated thinking outside of the box with your learning as skills and knowledge which may initially seem irrelevant to your role, may give you unexpected benefits. I believe that this is particularly true today, with an unprecedented rate of technological change and new entrants to almost every industry seeking to disrupt the status quo, it is difficult to predict what skills any job role will require in the future.
Further to my earlier blog on convergence, I find it quite exciting that twelve years ago, the job roles of 'Digital Marketing Manager' or 'Social Media Content Producer' didn't really exist. Where traditionally marketing and IT were somewhat separate entities, technological developments and the adoption of web technologies and digital marketing, have caused the two to converge. Many marketing roles require more technological knowledge and business-facing IT roles require more of an understanding of customer behaviour than perhaps ever before.
Sir Clive's example of developing skills outside of your immediate field, was his experience of managing the England rugby team. When he took over management of the team, he bought a laptop for each team member and insisted that they learned how to use it; an unusual ask perhaps in an era where device ownership was significantly less pervasive than it is today. Facing scepticism from the team and critics alike, Woodward argued that 'those that win at technology, tend to win' and he was proved right.
In due course, a sophisticated sports monitoring software package arrived on the market, enabling video playback of a match, overlaid with data and analytics which could provide insight into player behaviour, strategy and tactics from both teams. With their new-found IT skills, the entire team were able to analyse, learn and understand their – and the opposing team's – gameplay and input recommendations for improvements to tactics and strategy based upon this. Had the team constrained their skills development to the core skillset needed for playing rugby, it is likely that they would not have been able to embrace this technology, leverage its capabilities and collectively gain so much benefit and competitive advantage from its use.
Time and cost hacks for CPD
When it comes to finding ways to develop your skills, particularly when self-funding, it may seem that cost is prohibitive, but learning doesn't need to be expensive. Platforms such as FutureLearn and the OU's OpenLearn have a plethora of free, online courses at all levels, many of which are modules taken from current degree courses. There are also a number of free conferences and networking events for many industries and areas of interest. Jisc's annual Digifest the Education sector is a personal favourite. Tools such as Eventbrite, Meetup or simply Google can all help you to find free events near you. Viewing videos on YouTube or TED can be another way of learning quickly and informally.
Time may be another factor that poses a barrier to CPD, but this is where digital technologies can really help. Many courses are now delivered digitally and can be consumed in bite-sized chunks at a time to suit you. This micro-learning is one of many trends towards digitisation and consumer-centred demand in learning technology and is brilliant for busy people to squeeze in some structured personal development throughout the course of the day. Do you find yourself scrolling endlessly through Facebook or LinkedIn? Why not switch one of those scrolling sessions to viewing a short training video? Better still if 'spend less time on social media' was one of your new year's resolutions!
Learning doesn't need to be structured either. The old adage 'you learn something new every day' is quite true, but often we don't realise that we're picking up new skills and learning new things. Putting aside a few minutes at the end of the day to consider what you've learnt and how you can apply it helps to identify these 'on the job' development opportunities. But what if you're finding that you're not learning anything new? Well, perhaps it's time to start looking for new opportunities in or out of work to stretch, develop and grow yourself. Learning a new skill as a hobby can also open doors or show you new paths. You may enjoy your new sport, art or community hobby so much you may decide to make a career from it, or find a way to incorporate your new skillset learned from your hobby to enhance your job and career. For example, in my spare time, I perform as an actor in a theatre group. At work, I use the skills I've learned in my acting training when approaching public speaking or facilitating workshops. I also run training courses on this for my colleagues in order to share my somewhat unconventional skillset!
So to summarise, learning doesn't necessarily need to be related to your day job. All new skills are valuable and as demonstrated by Sir Clive and the England rugby squad, you never know when you will use something that initially seems completely unrelated to your job. Take control of your own development by being mindful of opportunities when they present themselves to you and using digital platforms for free, quick micro learning that can fit into your life when and where it suits you.
Coming Soon…
We're nearly at the end of my series of 'Top Takeaways from the Business Analysis Conference 2018', so thank you to everyone who has been following these blogs and commenting. For the final instalment on the theme of 'Catastrophising', I will be trying something a little different and not only creating my first vlog, but doing so from Death Valley in California and Red Rock Canyon in Nevada! Watch this space and all will become clear!
This blog first appeared on Rachel's Linkedin blog.