Home Why How What Who Resources
IDENTIFYING WHO YOUR STAKEHOLDERS ARE
CUSTOMERS AND STAKEHOLDERS
We need to understand and appreciate the diversity of people within the higher and further education communities. Different users will have different needs and expectations, thus we will need to be adept at collecting and presenting information to different audiences. Some people will be more technically able than others and some may need a faster response due the significance of their role (VIPs). It is therefore worth investing some time identifying, defining and documenting the different customer groups, for example: distance learning students, research and teaching staff and those who are classified as VIPs in your institution.
How you segment and differentiate your customer groups depends on your university or college, but most universities will be able to identify the following stakeholders:
Students:

undergraduate;
postgraduate;
students with on campus presence;
distance learning students, and;
international students.

Staff:

academic staff;
professional support staff;
senior or VIP staff;
staff in other service delivery functions of the university for example library or other student support services, and;
second and third line IT staff.

Guests and visitors of the university

one-off visitors;
long term guests.

The general public
(Content adapted from the UCISA UK Higher Education Service Desk Toolkit (Section 1, Core Information).
STAKEHOLDER ANALYSIS
A useful way to consider different needs and communication preferences of each individual, or group, who are to be key stakeholders in IT communications, is to ask "what's in it for me?" This information is used to assess how the interests of those stakeholders should be addressed in IT communications. Stakeholder analysis is a key part of stakeholder management.
This is all about asking the right questions:
Who are the stakeholders involved? Project sponsors, IT staff, students, professional staff, senior management, IT champions.
What details must be communicated to each group? Depending on stakeholders' level of involvement or technical knowledge, they may require different kinds of details and interactivity.
When must you communicate to each group of stakeholders? Some stakeholders require daily contact, while others may only need passive communication every few months.
Where will stakeholders receive their communication? Although it may seem easy to push information through a single channel (such as email) stakeholders often require communication in variety of media e.g. social media, group messaging, project management tools etc.
Having answered these basic questions, IT staff can start to build communications, schedules, and strategies for an effective stakeholder communication plan.
YOUR STAKEHOLDER MAP: WHO NEEDS WHAT?
This helpful image can be used to categorise the requirements of each stakeholder.
It's an adaptation of a concept developed by Vivian Kloosterman, founder of the online business school, Continuing Professional Development.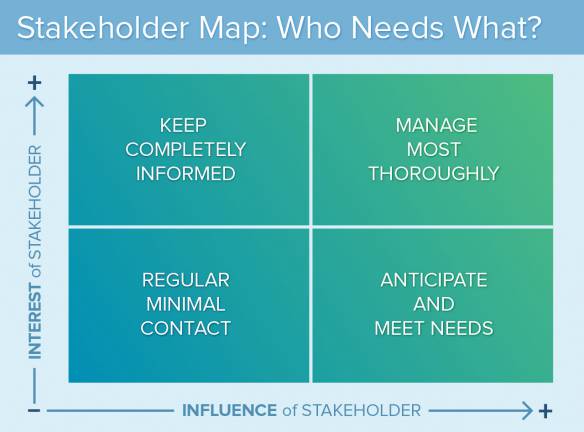 Understanding your stakeholders is a key step
STAKEHOLDER MAPPING
Business owners of systems will want technical information. They will need to know what the problems are and what caused them. Business owners are also well-placed to cascade information down to colleagues. The focus of the senior management team within your institution will be incidents and change, and they will need to know when the next update will be.
Whether you are communicating with business owners and the SMT, make it clear whether you are providing a general notice or whether it's a call to action. Are you asking for their help to pass on messages through internal mailing lists or reTweets? – if so, make an active request.
STAKEHOLDER ENGAGEMENT
Stakeholder engagement is the process used by an organisation to engage relevant stakeholders for a purpose to achieve accepted outcomes. Here are a few examples from the Toolkit project team of opportunities for face to face stakeholder engagement:
breakfast meetings;
"lunch and learn" – for launching a new service;
"coffee and comms";
new staff induction;
using existing groups and committees;
meeting the printing super user group;
freshers' fairs and open days;
meetings with the student union, and with student representatives;
IT Services desk/help points.
"We have 41 representatives from the IT Service who attend Student Staff Committees (SSCs) in every school across our three faculties. The rep pool consists of a mix of school IT computing officers and individuals from central IT services. This is a voluntary programme but our rep pool has grown over the last five years as service owners have been encouraging staff to volunteer because they see the benefit of having direct interaction with end users, developing a better understanding of their needs and how services impact them.

A rep is expected to represent the IT Service at three school SSCs throughout the academic year. At the meetings they provide updates, gather feedback on IT Services and follow up on any actions that the SSC assigns them. The effort required from a rep is minimal, the work roughly equates to half a day per year for an FTE, but the feedback from the SSCs has led to a series of projects and improvements to our existing services. We communicate this back to the SSCs and provide a webpage detailing some of our You Said, We Did developments.

Student feedback at the SSCs has contributed many service improvements including: the ability to print from personal devices to university printers, opening up ports to enable gaming in university accommodation, adding pop ups to warn users they have left their USB and installing departmental software on central clusters to improve student access out of hours. For the IT Service, having a presence at SSCs helps us to build a relationship with our users, dispel myths about our services and clarify what we offer. Whilst it is certainly not the sole factor, we do feel that having a direct feedback loop within the schools has helped improved user satisfaction as we are able to identify trends, deliver quick wins and feedback into long term strategy."

Marc Bennett | Learning Technologist, Newcastle University